Dan Wooding, Founder of ASSIST NEWS SERVICES, interviewed us in Jerusalem, for an American Radio Program, October the 4th, 2009. First, we have the actual Audio Interview, followed by the Text Transcript Version.
TEXT FORMAT:
Sunday, October 4th, 2009
'Shalom at Last: An Israeli's Journey to Jesus': The amazing story of Shlomy Abramov, who was once a bodyguard to Ariel Sharon, and is now launching his first church called Crown Jewels in Israel, along with his American-born wife, Miriam
By Dan Wooding, Founder of ASSIST Ministries
JERUSALEM, ISRAEL(ANS) -- Shlomy Abramov is a giant of a man in every way. In fact, he is one of the biggest humans I have ever interviewed.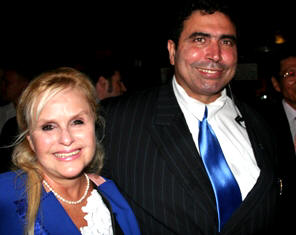 Miriam and Shlomy Abramov pictured in Jerusalem (Photo: Dan Wooding)
But besides his huge physique, he has an extraordinary story to tell, having gone from being a bodyguard to former Israeli Prime Minister, Ariel Sharon, to finding love with a lovely blonde American, finding Jesus as his Messiah, and then launching his first church in Jerusalem.
I met with Shlomy and his lovely wife, Miriam, recently in Jerusalem and they agreed to share with me their moving love story.
I began by asking Miriam, who hails from the Los Angeles area, to tell me how they first met.
"It was really a divine appointment," she said. "After a time I spent with Youth With A Mission and Mercy Ships, I felt in my heart that I was to visit Israel and had the opportunity to come on what's called a 'Help Israel,' which is a volunteer program called 'Kibbutzim,' which are the farm collective programs to help build up Israel.
"The program began in 1948 when Israel became a state again and people were welcomed from all over the world to help with farming, and teaching children in these collective living environments. I was accepted and came and met Shlomy the first week that I was here."
What did she make of this huge man?
"I thought he was very handsome, but I had to be very careful because of my Christian faith, so I pretty much ran away from him at first," she laughed.
I then asked Shlomy, who was sitting next to Miriam, what he made of this lady during that period.
"I felt that I was going to marry her," he smiled. "Yes that's what I thought and she didn't know that. In my history, I knew that that anything I wanted I usually got, but when I was talking to her, I found her to be very different to other women I had met. I said to myself: 'What's wrong? What's going on? I usually get anything I want, but I cannot get her.' I didn't know at the time that she was a believer and you have to understand that then I didn't even believe in God.
"So, step by step I came to know why she was like that and, thank God, today we are married."
So how did he come to accept Jesus as His Messiah?
"To make the long story short, in Israel it's difficult to find Israelis who believe in Jesus, and I was one of them, even though my family are five generations Israelis who were very rooted in a lot of religion and tradition," he said.
"I was with my family until I was thirteen, and on the very day that any boy becomes a man here in Israel and I said, 'God if You exist. I want to see you. If I will not see you, I will never believe in you.' He didn't show up so I stopped believing in Him. From then on I started another kind of life a life that I said I would be the 'best, the biggest' and I would be very 'famous.'
"However, during this period of time, I start searching for answers without getting any. If I look back now, I know that I was searching for God and couldn't understand why He didn't come to me."
Shlomy went on to say, "In my earlier days, I grew up to be even bigger than I am now, and people accepted me everywhere. I was in the Israeli Army, the police force and then I went into the private high level security where I was a bodyguard to the 'Frank Sinatra's of Israel' and officials like members of the Knesset such as Ariel Sharon, who became our Prime Minister.
"One day I decided that something was wrong as I couldn't find answers, so I went into the synagogue with my family to find out there but still I didn't find answers. So then I decided I to forget everything and I went on a vacation to a Kibbutz and there I met this young lady who spoke with me about somebody called Jesus.
"I remember years ago, I had heard this name in Hebrew and this word is a curse word in Israel. I told her that didn't want to hear anymore, but she continued and she told me that 'He was The King of the Jews' and also the 'Messiah.'
"I told her, 'Absolutely not. I don't believe it. Don't say that word. I know that name. I'm an Israeli.' But she wouldn't give up. Now, if you knew me before, then when I said 'No,' I meant it, but she wouldn't stop. Still, I remember I had already decided that she would be my wife, but when she said again the name of Jesus, I said, 'If you were a man, I would break you in half.'"
Shlomy added, "My family are Kurds from the mountains of Kurdistan and we are known as people who are not only stubborn, but strong and hot headed, and nobody wanted to mess with us."
But even that didn't stop Miriam and she finally persuaded him to visit a Messianic Congregation with her.
"I liked to be there, but it wasn't for me," he said. "That was until one day I decided that I would show them the kind of love they had shown me so I said, 'I believe in what they believe.' They didn't know that I was lying, but I just wanted to keep them happy.
"But when I went home it started the Third World War began inside of me. I heard voices which said things like, 'You changed your religion and your family will kill you.' But still, I decided to go back to my old love of reading the Bible. One day, when I was reading, I was shocked when I saw somebody coming out from the Scriptures. And I said, 'What and who is that? Who can that be?'
"Soon, this big man was shaking all over and then I start remembering some scriptures. One was that for Him, 'one day is like a thousand years in time' and a 'thousand years is like one day.' And my question was, 'Where was He twenty years before?' Then I remembered another scripture that said, 'if you will open the door it will be open unto you.'
In that moment, everything became black. I couldn't see anything. When I woke up, I was in the same congregation that she took me every Saturday and in this place, after a while, I walked up from my seat and I went to the stage and said to them something that I could not believe that I would ever say, that 'Yeshua, Jesus in Hebrew, is my Messiah."
Miriam then took up the story:
"I looked out of the corner of my eye and I saw him getting up in the Messianic service and I couldn't believe what I was seeing because I had consciously pushed this handsome man away," she said. "I knew that I was terribly attracted to him and he was a danger for me because he did not know Yeshua. How could I ever explain that to my family that I would go out with an unbeliever in Christ? That was such a terrible witness, so I had pushed him away from the beginning. Then I saw him at our church meeting that I'd invited him to, getting up to respond to an altar call and, to make a long story short, I thought at that point, 'Now I can look.'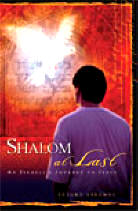 The cover of Shlomy's book
"This time he was very sincere. I remember this was the second week he had done this. The first week he'd just done it to please me and to please these nice people that he liked and was just trying to fit in, but then he had this struggle all week long until Jesus revealed himself and actually jumped off the scriptures of the Old Testament and he saw him coming out of the Bible in a vision.
"So when that happened the second week after this internal spiritual struggle and the whole struggle of hearing these voices that 'my father will kill me. I'm Kurdish. If I believe in Jesus, my father might slit my throat.' You know this is the Middle East and it's not accepted largely if you believe in Jesus as a Jew. But then Christ himself revealed himself to him and so I know it was very sincere and this time it was heartfelt.
"We went out to lunch afterward and he confided in me that he'd had a problem with Arabs all of his life and this was very common in Israel. The Jews and the Arabs have a lot of propaganda that they spew dislike towards one another. This is what we live with here. So he confided that to me and it was like a sin confession. He knew that something in him needed healing so I said, 'Well, let's pray about that.'
"It's a beautiful story actually as the Lord had him baptized with a very precious Palestinian man and I believe that healing the deliverance came on that day we prayed about that and he confessed that he had some feelings that he'd grown up with and he knew that God needed to take that from him and He did take that from him.
"Soon, this Palestinian brother would call him for prayer from inside of the territories and he would say, 'Brother Shlomy, my Jewish brother, I need prayer.' We used to go in disguise to visit him once or twice."
Shlomy then explained, "You have to understand that, in the history of Israel, we the Arabs were always our enemies. I considered any Muslim, any Palestinian, as an enemy. I have two uncles who died in the army and many of my friends and their brothers, all of them buried now because of Arabs, and there was a time that I would go to the streets to beat them up.
"The Lord has his own way and when I was baptized with this Palestinian, I felt a great love towards him that I never had before and since that day any I have more Arab speaking friends than Israelis. As I am a believer, I don't have a lot of Jewish friends. So the Lord can make a heart surgery in a man."
I then asked Miriam what happened next.
She said, "Shlomy came to faith a year after I began witnessing to him and then, of course, we would meet in a church or messianic setting. Then he was baptized a year after that after his coming to faith. So it was two years actually after we met and after he was a little bit grounded more in the Word that we were married.
"The wonderful Israeli pastors worked with him and it is a very beautiful thing to witness seeing the Jews sharing the scriptures to another Jew. It's just very rich and being from a Jewish perspective that helped him to get a handle on it. So when people accuse him of being a Christian, well he could still claim his Jewishness because he's proud of being Jewish and he doesn't want to lose that."
I wondered what Shlomy called himself and he replied, "I am not calling myself a Messianic Jew, but rather a Biblical Jew."
Shlomy then went to the only college in Israel where you can study the Bible in Hebrew - the Israel College of the Bible.
After this, the couple worked for several years with Jews for Jesus in Israel and are now planting their own congregation in Jerusalem.
"Yes we are pioneering a church, a congregation in Israel," said Shlomy. "I had been helping a pastor and I started going up and became an elder then his associate pastor," explained Shlomy. "Now the Lord is calling us to start another pioneering church and I believe this is my calling -- to start planting churches.
"We're starting a small one and it will be a faith congregation and the Lord will make it grow up in His way and in His time. I have my vision about a family that when it's grown up, it will become a tribe and everything together will be all the time as a family. So that's my vision and that's how I'm seeing my new church, my congregation, which we will call 'Crown Jewels.'"
Miriam concluded by saying, "The Lord also gave us the name of our ministry which is Awake Israel. We think that everybody is sleeping and somebody has to wake them up. If we are part of this power -- this army -- that will wake them up."
By the way, Shlomy Abramov has written a book about his testimony called "Shalom at Last: An Israeli's Journey to Jesus." It can be ordered as an e-book at http://jewsforjesus.org/resources/ebooks
Note: I would like to thank Robin Frost for transcribing this interview.
---
Dan Wooding, 68, is an award winning British journalist now living in Southern California with his wife Norma, to whom he has been married for 46 years. He is the founder and international director of ASSIST (Aid to Special Saints in Strategic Times) and the ASSIST News Service (ANS). He was, for ten years, a commentator, on the UPI Radio Network in Washington, DC., and now hosts the weekly "Front Page Radio" show on KWVE in Southern California and which is also carried on the Calvary Radio Network throughout the United States. The program is also aired in Great Britain on UCB UK and Calvary Chapel Radio UK. Wooding is the author of some 43 books. Two of the latest include his autobiography, "From Tabloid to Truth", which is published by Theatron Books. To order a copy, press this link. Wooding, who was born in Nigeria of British missionary parents, also recently released "God's Ambassadors in Japan" which is available at amazon.com.